Looking at one of Odin's rune sets and wonder how to read them? Here is a handy guide to explain all the symbols, as well as Odin's two favorite ways to cast runes.
Here is a handy dandy Table of Contents to get you to where you want to go:
---
---
TERMINOLOGY
Two things you need to know:
Ætt – A set of eight runes that divides the whole Futhark (alphabet). Nothing real deep unless you are more into the spiritual side of the runes. You can do further research on that on the internet. Here, I am just giving you the crash course. There are three Ætt to divide all 24 runes.
Merkstave: The opposing (reversed) meaning to the runes. This is important when reading the runes. For example: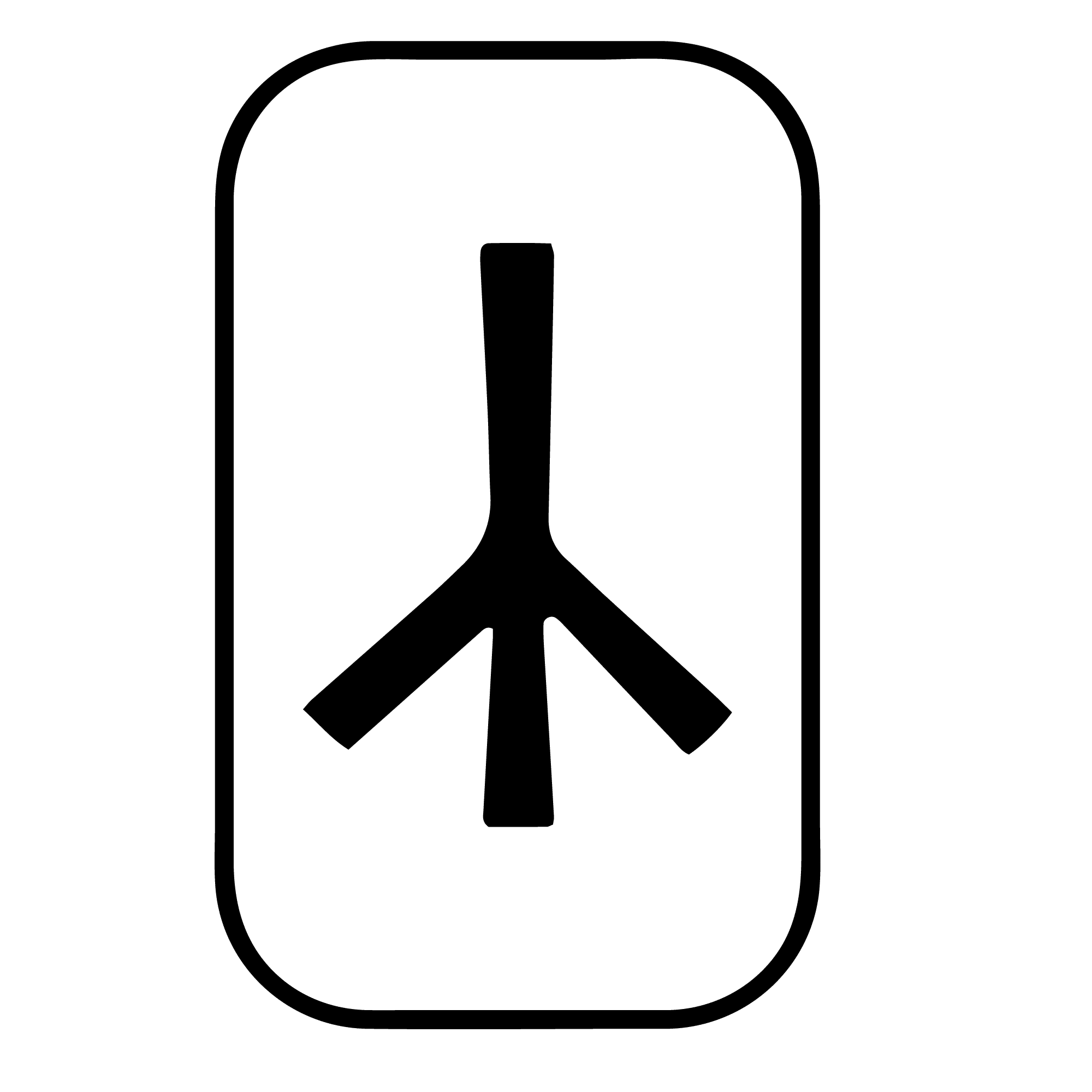 This is Algiz in the upright facing. This means protection.
This is the Merkstave of Algiz. It can mean a warning, danger.
Some runes don't have a Merkstave, but you can consider the opposite meaning when you are reading them, especially if your intuition tells you. Take Isa for example: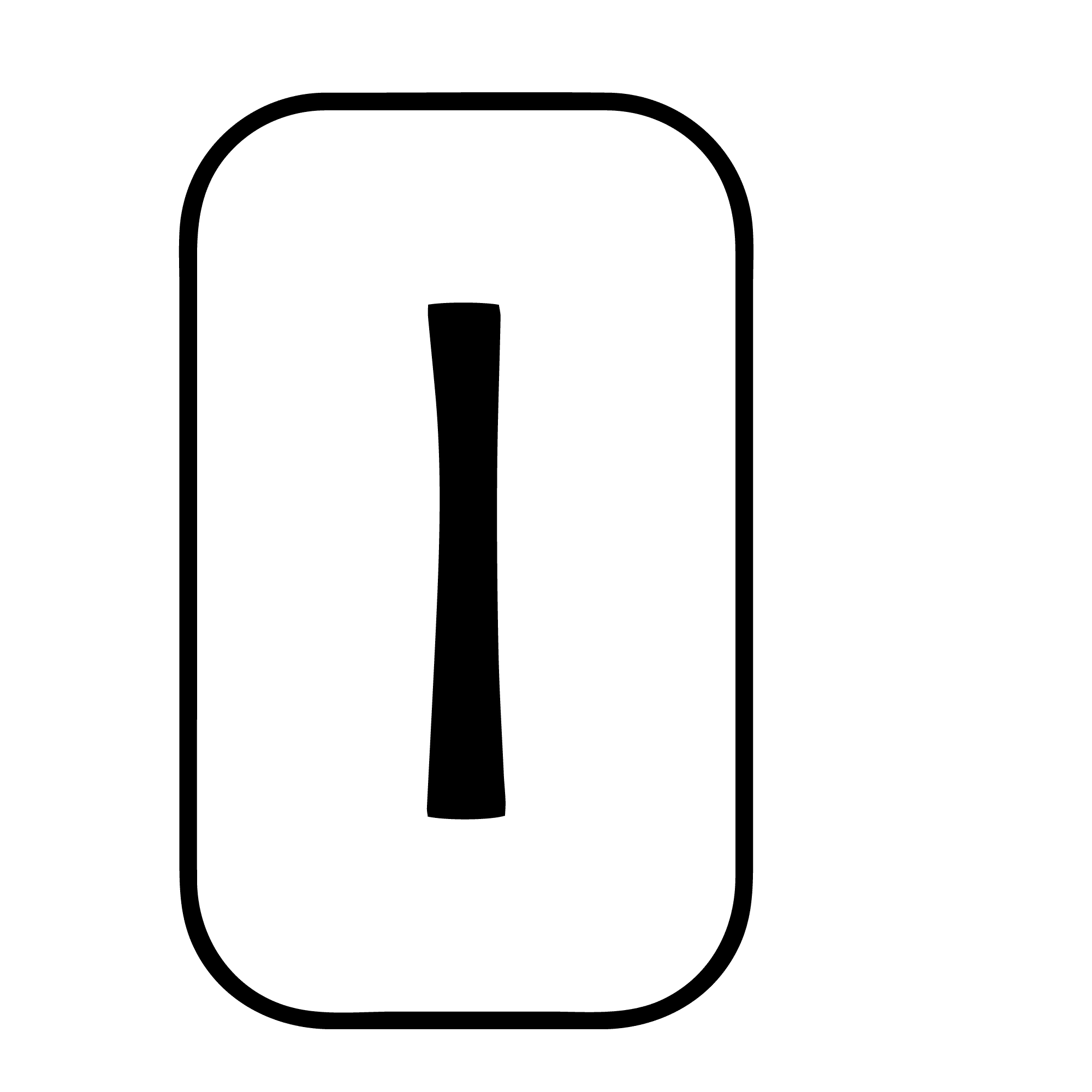 The fuck are you supposed to do with this? Flip that shit, and it looks exactly the same.
With all that being said, here we go with the definitions. Please be aware, this is the most commonly used images for the runes. There are variations of the same symbols considered the Elder Futhark, as well as similar symbols in the Younger Futhark. If you find a symbol that you don't recognize in your sets, see if you can find them on the internet.
A lot of these variations come from evolutions in the Norse written language. The Norse culture was more focused on oral tradition, and this might have bled into their written works as well. It's like one giant game of scrabble telephone.
---
THE RUNES
THE BLANK RUNE
Some sets include a blank rune, which is a subject for debate depending on who you talk to. The blank rune is symbolized as "Who Knows?????"
Personally, I don't use it as it isn't used traditionally. I do use it as a fidget toy as I read the runes.
Frey/Freya's Ætt
Fehu (Cattle): This is a symbol for material wealth. Abundance and fertility.





Merkstave: Loss of wealth or property. A failure, something you struggled to keep lost.

Uruz (Auroch - a type of Ox): Strength, energy and tenacity to accomplish. Taking action. Masculine tendencies.




Merkstave: Something stupid and regrettable could happen due to bullheadedness. Weakness or sickness.

Thurisaz (Thorn): Defense, a cathartic purge against old ways. Male sexuality.




Merkstave: Danger or deception. Someone with malicious intent.

Ansuz (Ash Tree): Good communication, advice and truth, inspirational speech and wisdom.

Merkstave: The power of words laced with delusion, miscommunication or manipulation


Raidho (Wagon): Transitionary period, a good opportunity to act upon, a journey or evolution. In a harmonious rhythm in life.

Merkstave: Diverted plans due to unexpected events. Standstill. Chaotic obstacles preventing motion.


Kenaz (Torch): Insight and inspiration, good creative flow.

Merkstave: Stagnation, blockage in creativity. Loss of direction.


Gebo (Gift): Literal gifts, an exchange or sacrifice. General goodwill.

Merkstave: Greed. Giving too much of onesself. Unable to say no when asked too much of.


Wunjo (Joy): Euphoria, literal joy. Prosperity. Take care not to overindulge, but enjoy success.

Merkstave: Celebrating too early and being a fool because of it. Delerium,

Heimdall's Ætt
Hagalaz (Hail): Destructive force, whether it be in nature or within oneself. Not necessarily bad, just a rough ride.

Merkstave: Not really a merkstave but can be reinforced: Hardship caused by outside forces, the things you cannot control.


Nauthiz (Need): Endurance and determination, acknolwedgement of a need for change. Pull up your bootstraps and do the thing. 80's style training montage.

Merkstave: Deprivation, needs not being met, Thirst for mental stimulation.


Isa (Ice): Stasis, a need for patience. Obstruction that needs thought to overcome. An objective clearly seen, obstructions obvious. This also reinforces runes around it when casting.

Merkstave: Doesn't really have a merkstave, but you can take it as the opposite: Solutions murky from ego, unable to see behind the curtain, potential plots or hidden deceit.

Jera (Year): A good time for reflection of recent efforts. Patterns of cycles.

Merkstave: Setback, a change that diverts you from your immediate attention or path.


Eihwaz (Yew Tree): Reliability and trustworthiness, honesty of those around you. Keep up the good work, you're headed in the right direction, pal. A symbol of protection.

Merkstave: Confusion, destruction.


Perthro (Dice Cup, Vagina): Mysterious mysteries of mysterious mystery. Feminine tendencies, Having insight of one's destiny or fate.

Merkstave: Lonliness, being ostracized. Deception.


Algiz (Elk): Protection and defense, whether oneself or others. Maintaining success or earned positions. Telling evil forces to fuck off. Connection to supernatural spiritual forces.

Merkstave: A warning, loss of connection with spiritual forces, Concealed danger, Repeling force, be aware.


Sowilo (Sun): HA-HAAAAA SUCCESS!! Bask in that glory. A cleansing fire, resources will be provided to make positive change. HARNESS THAT POWER.

Merkstave: Energy spent on the wrong path. Might wanna relook at those goals, might not be a great idea. Someone may get a reality check slapped across the face.

Tyr's Ætt
Tiwaz (Tyr, Warrior): Authority, but the good kind of authority: justice and honor, willingness to self-sacrifice, Good thinking and the ability to assess a situation. Victory in competition or legal matters.

Merkstave: The brain is goin into overload. Over analyzing situations, giving too much of yourself in order to complete goals that might not even be worth it, depression, inspiration gone. A conflict.


Berkano (Birch Tree): Birth and rebirth, fertility, growth and renewal like the spring, prosperity of new ventures. Literal fertility or mental. Much newness.

Merkstave: Trouble with those close to you, whether they are out in the open, miscommunications, or just obsessing over an issue unspoken. Impulsive action.


Ehwaz (Horse): Transportation, but focusing more on teamwork rather than the progress of an individual. Comfort and trust in companionship working along the way. This rune heavily reinforces the runes around it.

Merkstave: A frustrating craving for change, confinement.


Mannaz (Human): Focused on the self and perspective on those around you. Awareness or social construction. Aid may be available to you.

Merkstave: Isolation, Think of silver tongues speaking of deceit, being blind to the plots aroudn you. Depression.


Laguz (Lake): Flow/motion. This focuses more on psychic awareness, imagination, and dreams. A force of healing and growth. Hidden mysteries of the underworld.

Merkstave: Running around the same path for fear of making the wrong move. Avoidance, the mental state may be at a standstill until clarity is found, often to an unhealthy degree.


Ingwaz (Frey, Fertility): All things domestic, a sense of home. A time of rest. Reflection on the small things you are capable of. Ability to move on since old issues are taken care of. Internal growth.

Merkstave: Stagnation, doing the same thing over and over with no results or change.


Dagaz (Dawn): Clarity, transformation. EUREKA! YOU CAN DO THE THING! Solutions are within your grasp. Sense of hope and growth.

Merkstave: Not really a merkstave on this one - just affirms a completion.


Othala (Home): Physical possessions, literal home or property. Heritage and values of a community. Aid with journeys.

Merkstave: Oppression, community strife. Injustice.

---
CASTING THE RUNES
Three Stone Quick Cast:
This is the simplest one if you want to do divination on the go, or don't have a lot of time to contemplate the secrets of the universe.
So first contemplate a pervasive issue in your life. Open-ended, not "Will Billy Bobby ask me to the Prom????" No. Get a damn ass Magic 8 Ball if you wanna do yes or no shit.
Keeping your issue in mind, take out three runes from the bag and line them up in front of you:
Now you can do this however you like. You could flip over the Present in the middle first to consider your situation as it affects you now, then flip over the Past to recall how it started, or how it impacted you in the past. Or flip both, whatever, I ain't your dad.
Once you feel you have gleaned as much thought as you need, flip over the Future, and from there draw your conclusions.
So for an example cast:
Interpret it how you wish, you are the medium in this instance and can apply this however. This is a tool to help you brainstorm your choices, not a definitive answer.
---
Full Set Chaos Cast:
This one is fun if you have some time to kill or need deeper contemplation.
Your set up is simple, take a surface you want to work on, and lay down a square or circle of something to on top of it. A tea towel is a good thing to use in a pinch, and some people have dedicated casting cloths to work on.
Your area should look like this: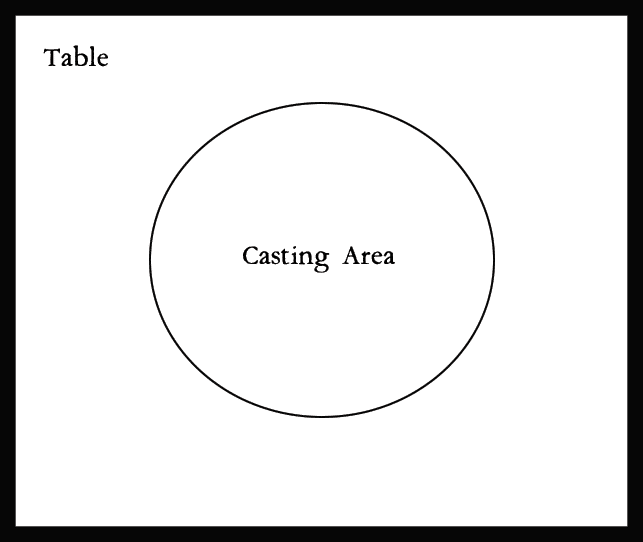 Feel free to spruce up your space to make it feel cozy. Light some candles or incense, put shiny things around, your favorite baubles. Make a cup of tea or cocoa or something.
Contemplate your situation same way as you do for the Three Stone cast. To help you concentrate, take all the runes out of the bag and roll them around in your hands.
When you are ready, CHUCK THAT SHIT IN THE AIR. Seriously, toss em up and let em fall on the table, aiming for the casting cloth, however. Don't like hurl them into the ceiling, but give it some good air.
Now we look at how things fall. Anything that lands outside your casting area (and maybe landed on the floor), do not count for your situation and you can remove them as you please. Use em for fidget toys while you contemplate your orbs.
NOW the reading can BEGIN. The rest of the runes will be either face up or face down. The ones face up are relevent to the present/past, and the ones face down are for the future.
Read the face up runes first, keeping a few things in mind:
Runes in the center or closer to you tend to be more relevant than ones that are further outside.
Runes clustered together are related to each other or amplify each other.
Read the runes as they lay facing you so you can keep track of the way the stones are aligned.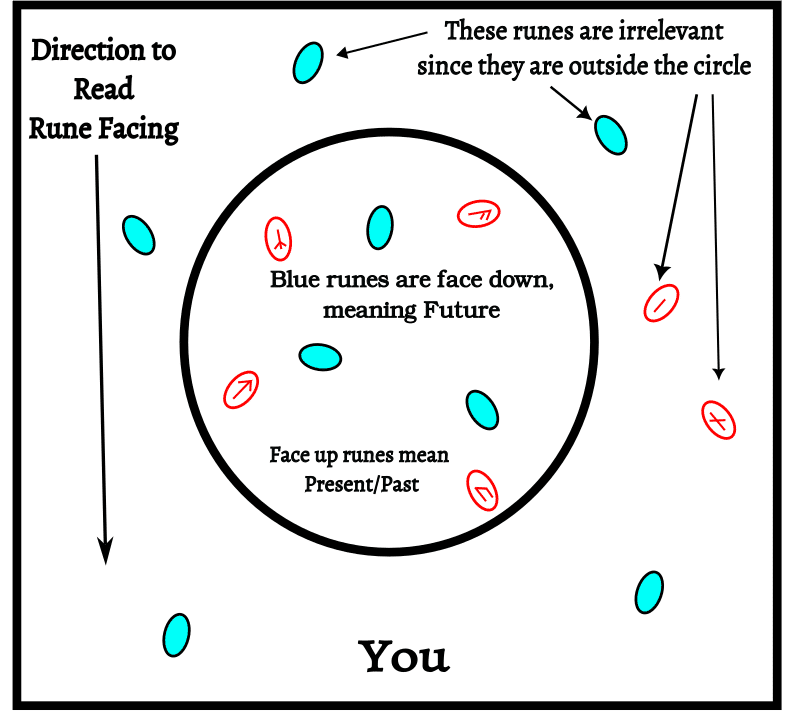 Once you have gleaned as much info as possible, flip over the other runes and read them as you like. You can mark them with shiny things, coins, stones if you need help remembering which ones were flipped.
And that's all there is to casting runes. If you want to feel some sort of closure to the reading, create some sort of ritual to finish: blow our your candles, gather your stones and place them back into the bag, fold your casting cloth in a fancy way.
FUN THINGS TO DO WITH READING
Some stuff that I like to do because I am a crow who likes shiny things:
Take a picture of your casting and print it out to remember your reading
Keep a journal and write down the questions, photos and drawings.
Make multiple castings of the same situation over a period of time and track the results.
Make a permanent space and decorate it with trinkets and delights, as well as organize your casting supplies.